The gruesome murder of Miss Iniubong Umoren, a 26-year-old Philosophy graduate of the University of Uyo by a serial rapist has sparked protests and solidarity marches in Akwa Ibom and across some parts of the country.
Akwa Ibom women in thousands on Wednesday organised a solidarity walk demanding justice for Miss Iniubong, a young woman who was murdered by one Uduak Frank Akpan while she was on a job-hunting spree in Uyo, the state capital preparatory for her NYSC call-up letter.
The women decked in black attires moved in a group to Government House, Uyo, seeking justice for Umoren and other women who have been victims of gender-based violence.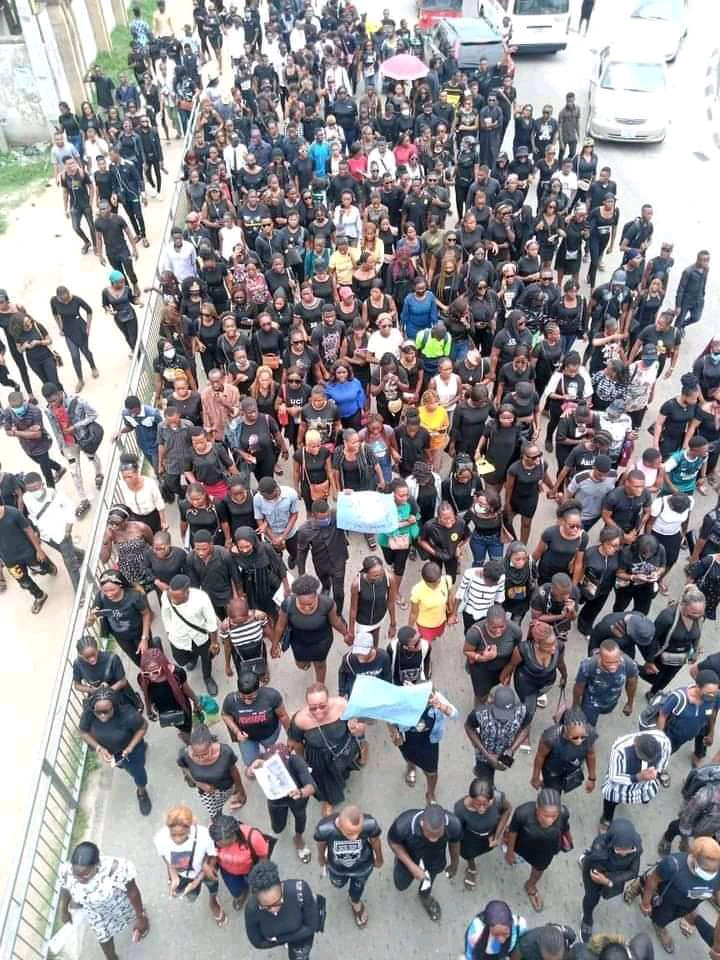 They also carried placards bearing different inscriptions which read, 'Akwa Ibom State Women demand justice for Iniobong, Esther, Glory and other victims of sexual-based violence', 'Don't just say rest in peace, help women live in peace,' 'My no means no,' 'If Abel's blood cried to God, Iniobong's blood too cries to God for vengeance, beyond justice', 'My body, my rules, 'Rape brings trauma,' among others.
They marched along such major streets as Ikot Ekpene, Oron through Wellington Bassey Way end to Government House, Uyo.
Her death has social media abuzz as many joined in condemning the 'barbaric act' and heinous crime perpetrated by the serial rapist.
A one-time Senate President Bukola Saraki has condemned the act.
The National Association of Women Journalists (NAWOJ), Akwa Ibom Chapter has lent a voice against the murder of the graduate.
Moreover, a large number of the students of the University of Uyo, Akwa Ibom State turned out on Tuesday, May 4, 2021 to conduct a solemn condolence and procession for their colleague, late Miss Iniubong Umoren who was murdered by one purported job giver in Uyo.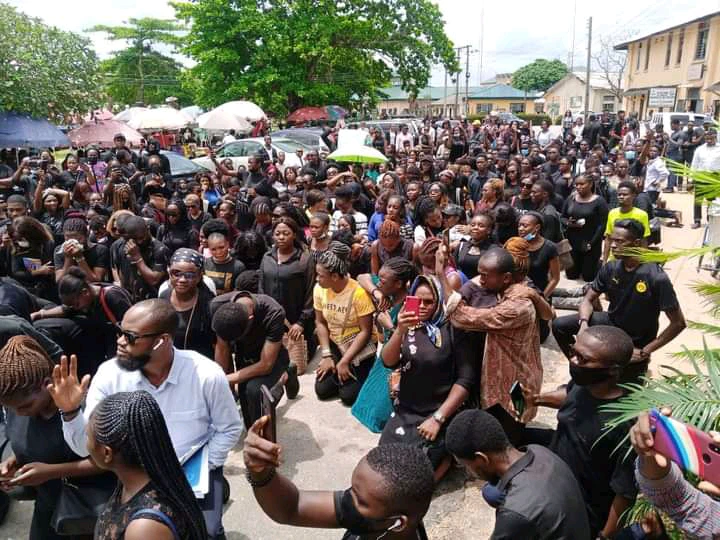 The condolence procession which kicked started by 10 am on Tuesday saw a very large number of heartbroken students of the institution matching, singing and begging for justice to prevail for their slain colleague.
"We are matching in honour of our colleague, Iniubong; we are matching for justice to be done on the case of our murdered comrade."
"Injury to one is injury to all; justice for Iniubong Umoren is all we want…"
The above lines were some of their chants as they proceded peacefully around the Uniuyo town campus located at Ikpa Road, Uyo, Akwa Ibom State, displaying placards of various inscriptions.
Kitting themselves in black materials, the mourning students pleaded to the relevant authorities in the state to ensure the prosecution and conviction of the culprits responsible for the untimely death of Iniubong Umoren in accordance with the crime he has committed.
Umoren, who was also an orphan, had dropped a tweet on her handle last Tuesday, May April 27 seeking a job.
She wrote, "#AkwaIbomTwitter please I'm really in need of a job, something to do to keep mind and soul together while contributing dutifully to the organisation. My location is Uyo, I'm creative, really good at thinking critically and most importantly a fast learner. CV available on request."
She was allegedly invited by a young man, Uduak Frank Akpan, suspected to have kidnapped her as she could not be reached on her mobile line.
Umoren's friend, Umoh Uduak, had consequently pleaded for help on social media, after which Nigerians started tracking the location, phone number and other details of the suspect.
Following available leads, men of the Anti-Kidnapping Squad of the Akwa Ibom Police Command arrested the perpetrator who confessed that he lured his victim to his house in the guise of giving her a job but ended up sexually and physically assaulting her, which led to her death.
This was confirmed by the Police Public Relations Officer, Odiko MacDon, in a statement confirming the incident and the subsequent arrest of the suspect, Frank Akpan to newsmen on Sunday. He said the culprit confessed to the crime.
Her death may not connected with as a few days before she was killed, she went on Twitter to lament how Akwa Ibom State governor, Udom Emmanuel has decided to build a church in the state that already has numerous churches.
According to her, she get confused each time she remembered this. Truly, she must have wish that industries were built to offer job employments which would have benefited her.
"I get really confused anytime I remember that my state governor spent a lot of money to build a church in a state where the number of churches present is almost greater than the number of citizens," Iniobong Umoren had said.
(With reports from Opera News and Saharareporters)